Show & Tell Tuesday
I have two quilts to share today.
In August of 2013 I shared my Spider Web quilt on Quilty Pleasures.
The pattern came from the book "Day & Night" by Eleanor Burns.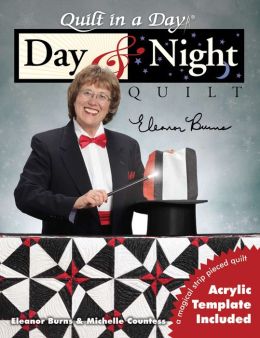 I had a lot of fabric left over so I decided to make a few more quilts from the book.
The pattern for this quilt can be found on page 20 of the book. I made the three color variation.
I completed Day & Night in 2011 and the finished quilt measures 70" X 95".
Checkerboard was literally made from bits and pieces of the first two quilts that would have otherwise been thrown away.
When I originally pieced this quilt I had just learned a technique to add the quilt "label" by embroidering on the binding.
Notice the date on this label - 2010
When I recently went through my stack of completed quilts, I did not see this embroidered label. I made another label and attached it to the back of the quilt.
I wasn't sure of the exact year I made this quilt, so I guessed 2011. When I made the discovery the label had already been attached to the back of the quilt. I wasn't about to re-do it.
Actually, I thought that maybe one day in the future someone may discover the discrepancy between the two labels and wonder what the story might be behind the differing dates and names.
My finished quilt measures 37" X 52".
Until Next Time.....Happy Stitching!!!